Yeah it's the truth, if there were no mirrors, we would think we look like we emotionally feel, maybe not 17 and self-conscious, but youthfully excited, inspite of a few aches and pain, to hangout with our school buddies once again for an evening or weekend...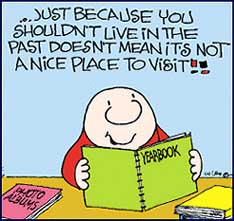 So go ahead, [[Time Warp]] wear your coolest new clothes that your mom just bought you at a store on Van Nuys Blvd and hope someone else isn't wearing the same thing. Cover your zits with Clearasil or make-up, because we are borrowing the parent's car and turning up KRLA to blasting Wooly Bully,
, let's cruise Bob's and the Blvd, search for a party, avoid the police, or go to Sports Night as the 'Bones are playing, and don't bring your boyfriend or girlfriend unless you are really seriously going steady and need to, ...
You're feeling pretty high after spiking the soft drinks with whatever was in your parent's liquor cabinet, dancing the surfer stomp and the Van Nuys line dance, while trying to get to know a younger girl or older guy as the case may be.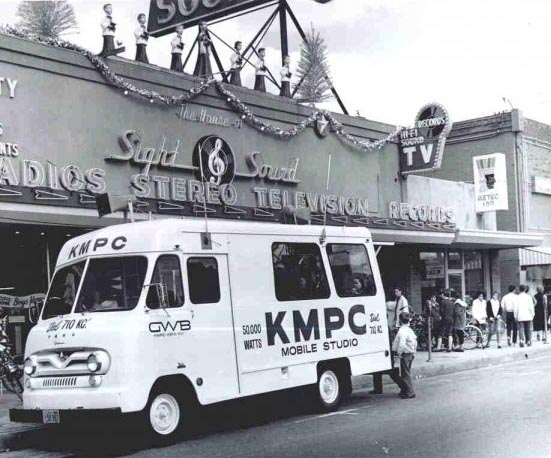 [[Warp to Now]] So get your gray or balding head and over weight body to This Reunion and flash back party. There is no truth to the rumor that there will be a "wrinkle contest"! Perhaps we have finally let go of the mind set of "who has the bitchenous bod"...well maybe :o)

Nowadays a reunion is about personal appreciation of what a special time it was. And who has the best memory...there are lots of senior moments as we see familiar faces and look at each others high school photo-name tags. It is incredibly joyful to share your memories, but it's especially satisfying to share the rest of your life with special school friends once again.

At the last reunion one classmate said, "I never thought I would have this good of a time. There were so many people that I cared about here. I am glad I got talked into going. I even saw friends from elementary school and junior high and never stopped laughing ."
♥ When:
Saturday October 8th, 2016
♥ Where:
Sportsmen's Lodge
♥ Time:
5:00 P.M. until closing
♥ Check In and
Social Hour:
5 to 7 P.M......no host bar and light entertainment, outside the banquet hall.
♥ Food and Drink:
Deluxe Buffet Dinner and Cash Bar 7:00 P.M.
Veggie and Gluten Free options included, special diet plate upon request.
♥ Friends:
Plenty of non-music time for talking with all your school pals. If you really only want to see a few close friends, let us help get them there by emailing who you want to see at reunion@vannuys66-67.com
♥ Music:
All the Best Music from the 60's with a Blast from the Past Memory Show from the 50's and 60's.
♥ Cost:
Only $95.00 ...There is no profit, organized by class members. // Your Reunion Purchase is Refundable, except for a $6 C.C. processing fee, in case you cannot attend. Please notify us ASAP. //

Please purchase your Saturday Night ticket early. This will allow us to expand the banquet space while there is still room available and will help fund the many reunion expenses and be greatly appreciated. Additionally, the Sportsmen's Lodge requests payment and our closest exact number one week ahead. (We of course will accept all last minute attendees).

♥ Purchase Reunion Saturday Night:
Please purchase your ticket here online with our secure credit card gateway.
There are 2 options with Buy Now button:
1. - Pay with a PayPal account
2. - Pay with Credit Card or Debit Card
Under "Special Instructions" please include your graduation class e.g., W'66. If Married Female, please add your Maiden Name

**You will NOT receive an actual ticket, but your name will be on our paid list when you register at the door. You will also receive a confirmation email of your ticket purchase.
You may wish to print your email receipt. Clicking on the Buy Now Button takes you to an SSL Security Protected page.


♥ Or Pay by Check:

Payable To: "VNHS Reunion 66-67"
Mail to: VNHS Reunion 66-67
P.O. Box 6636 Oceanside, CA 92052-6636
After Sept 24, please send Priority Mail or select the Buy Now button and pay with credit card.
♥ Reunion Donations and
Angel Fund:


Our 50th Reunion Weekend is an all volunteer effort by members of your high school class. We are self funded, including hotel banquet room down payments, invitations, decorations, entertainment and many more items.

It is our desire to keep the ticket price as low as possible and still have a wonderful event. If the Wolves spirit moves you to donate towards these expenses, everyone will appreciate and enjoy your generosity. All donations will be used to enhance the reunion or pay for someone less fortunate to attend.

If you wish to attend the Saturday Night Reunion Party, but cannot afford the ticket, please send us a confidental note and we will provide you with a ticket, contact Joanne Beggs here.

♥ Hotel Rooms:
Sportsmen's Lodge : Guest Rooms: click for hotel information. As of Sept 23 The Sportsmen's is probably booked out, but give them a try. Sept, 2016 Update: There are only $247 rooms available. Please see the alternative hotel below.
Call 877-806-2279 or 818-769-4700 and ask for the Van Nuys H.S. "Group Block" rate – and 10.00 per night for parking (regularly 14.00 per night). Limited number of discounted rooms available. Please book ASAP to get this rate.

Alternative Hotel: Studio City Courtyard (not the Marriott). It is 1 block away from the Sportsmen's. Sept 23 there are still rooms available, the rooms are less expensive when purchased in Advanced online. This is a suggestion, not necessarily a recommendation, please read reviews.

2nd Alternative Hotel is 2 miles distance on Ventura Blvd from the Sportsmen's Lodge hotel with a Starbucks close by is El Patio Inn, click here.



♥ Maps and Transportation:
Map of Hotel for Freeways and Burbank and LAX
Reunion Hotel is on Ventura Blvd just east of Coldwater Cyn Ave (exit Ventura Fwy).
Taxis (7.5 miles Burbank Airport to hotel) or Super Shuttle from Burbank or LAX airport 1 way (818) 556 6600.
Universal City Metro Station Map Take one of the many Ventura Blvd buses to the hotel. The Sportsmen's Lodge also offers a free van to Universal Studios near by, but not to the Metro station.
♥ Dress:
What we always wanted in high school, No Dress Code....
we just want to see your smiling face!!
Other Events
♥ Friday Welcoming Party:

************************************************************
Friday, October 7th, 6:00 P.M. to 10 P.M.
Sportsmen's Lodge Hotel Bar.....See details:
Reunion Activities
♥ Sunday :
Sunday, October 9th, 9:00 A.M. to 2 P.M.
Hotel Brunch and SF Valley Relics Museum Tour
Reunion Activities
♥ Reunion Saturday Daytime:
Saturday, Reunion Daytime hours, October 8th
Times and activities in planning, we will meet at the
Sportsmen's Lodge Hotel Lobby and free van to City Walk or Universal Studios
Reunion Activities